The news in brief today whilst we are still enjoying the stories revealed on VE Day 75 last Friday. We did indeed take two minutes of remembrance at 11am on Friday morning and we poured sparkling elderflower for those who were at Roots in the afternoon at 3pm, we raised our glasses to those who gave so much, and to customer Raymond Gardener, on his 84th birthday. Here to bring our reflections to a close is a picture from customer Caroline Davies whose mother-in-law Sylvia Davies, aged 7 at the time, doesn't recall VE Day, but found this picture which she believes was the community gathering that she attended as a child, what a brilliant picture it is. Our thanks again to everyone who shared stories, a cream tea has your name on it when we meet again.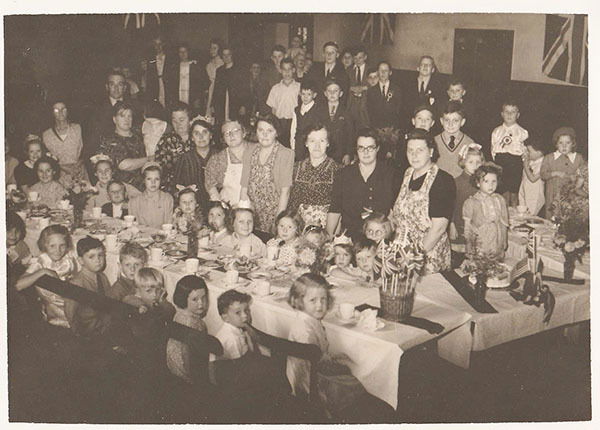 A change today in the weather, a 10°C drop overnight. We have kept the glasshouse closed today for the first time in two months to try to maintain the warm air around our precious seedlings, another reminder (as if we need it!) that change is afoot and what we get used to may not be the 'new normal'.

Good news – we picked our first broad beans on Friday – only enough for our tea I'm afraid, but next week they will come on a treat, particularly if the rain we are promised materialises, perfect timing to swell the tiny beans in their velvety pods. Our absolute favourite risotto is one of early summer vegetables, broad beans, asparagus, freshly picked and chopped chives served with a glass of chilled white wine … sorry, we drifted away for a moment then … a recipe for next week we promise. If you have young children who you hope to 'encourage' on the vegetable front we can recommend you 'Google' the little ditty of vegetables – 'Cauliflowers Fluffy' – I remember our children in their nursery groups taking great delight in giving a little wiggle at the end of the song to represent 'broad beans in their blankety beds'.

The farm shop has swelled its stock again in the last week and we have been able to catch up with the demand for our organic meat and poultry (almost), so there is a good range of delicious cuts to choose from. A number of customers have commented on our extended range of groceries including some new products which we are all enjoying. 'COOK' ready meals continue to be a big hit with everyone, including us. We all look forward to Thursday evening when after a long day of baking we delve into the 'COOK' range of curry – something for everyone, a night off cooking is quite a treat.

More exciting arrivals on the farm this week, our 2020 flock of goslings from a closed organic flock of Embden geese – we're giving them a few days to settle down, they need peace and quiet having only hatched on Sunday. Pictures next weekend.

Last of all, we wanted to share this, one of our favourite scenes from this time of year, a hedgerow fringed with cow parsley, a sure sign that summer is on the way. It is a view that we hope this year has been enjoyed by more families than usual as they take their daily exercise. For us, whilst we still have a long road ahead, enjoying moments of the here and now is so important. Connecting with nature and the seasons, farming for our future, whatever that future has in store for us.