Small growers - big ideas ...
A little late with the news this week – we've been catching up on a few jobs. A family effort to get some squash seeds sown and the chicken pens moved on Saturday with watering and weeding on Sunday – but it's all good and ready for a racing start today!

We've started picking the broad beans properly much to the excitement of our weekend customers. Do ask for them on orders this week, they are tender and delicious. We are having risotto for supper this evening and we'll post pictures and a recipe to our website. If you have favourite broad bean recipes, please do let us know and we can share them.

From the poly tunnel we'll have fresh new season courgettes, lettuce, radish and chard over the next ten days – the 'hungry gap' is over, the new season is here! We've planted out our tomato crop. There are a few spare plants if you fancy growing a few of your own, just let us know. 'Goldiana' a particular favourite of sweet cherry tomatoes golden in colour – served in a salad with purple basil leaves, basil plants available too!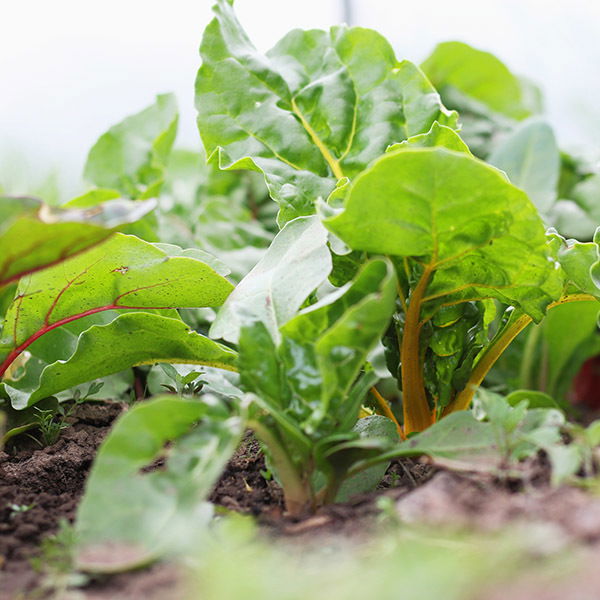 We are small growers with big ideas often going the extra mile to get the freshest, tastiest produce for our customers. Here are some pictures taken yesterday evening – the mixed cropping, chard, courgette, lettuce and radish. Sowing small batches in succession is the technique we employ to give some continuity of supply; we have to be flexible.

In the flower garden we are picking the first roses, delphiniums and some stunning artichokes in an array of colours which we think look spectacular with their grand silver foliage, unusual, but very much of the moment with good vase life – lovely for a kitchen display.

We were discussing ladybirds on Friday. We knew they weren't far away – usually putting in an appearance around the first beans – and on Saturday morning …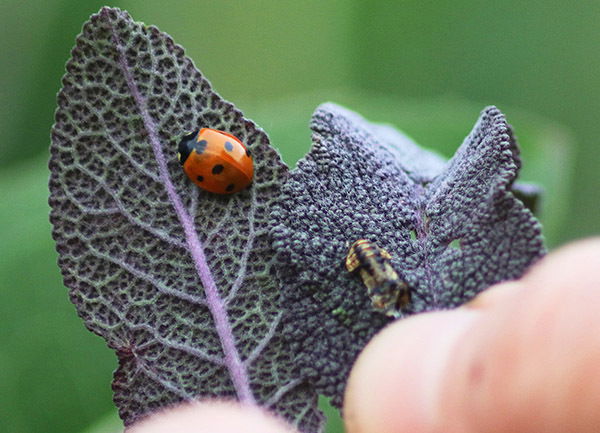 …this ladybird, one of many newly emerging from the pupa stage colouring up form yellow to orange to red. This morning we have marvelled at the numbers of larvae marching over the stinging nettles that surround the end of our tunnels – wild patches for all the good predators to live in. It is a good tip, allow some wild, unkempt areas of your garden to be a home for helpful insects, slow worms and the like. They are the gardener's true friends.

And talking of gardener's, we shall be one of the 520,000 members of the Royal Horticultural Society joining in the 'Virtual Chelsea Flower Show' introduced by Sir Nicholas Bacon, President of the RHS from his… conservatory? Whilst desperately sad not to be in Chelsea this year admiring the many achievements of our gardening greats, we will make some time to enjoy the online stories. Flowers, gardens and food, three of our favourite things, if you have a chance to take a look there is plenty to enjoy.