Everything you love about Roots in a new and improved shop, it's brilliant. Easy to use with interesting information and fabulous pictures of our products, new items being added all the time.
We understand that shopping online has been a new experience for many of our customers this year, it has been one we have shared. We are enormously grateful to the small group of regulars who have patiently worked through the development stages and given us extremely useful feedback. So now, go for it and enjoy!
Shop Online
Weekly ordering …
Orders are taken until Wednesday midday and prepared for collection or delivery (where applicable) on Friday. Please do get in touch with us directly if the product you require is 'Out of Stock' – many items, particularly our organic meat, have limited availability, but we may be able to take orders for certain items over the telephone. A super range of delicious Christmas treats are available to buy now along with Christmas poultry and our
Christmas Trees to rent.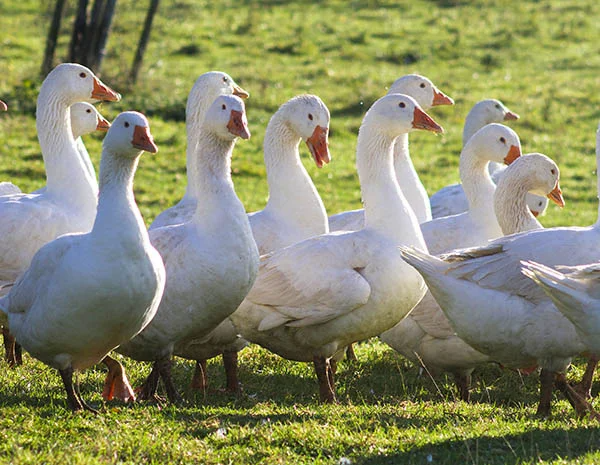 Christmas is coming … don't miss out
Will has always enjoyed rearing a gaggle of geese. As a teenager he raised them for family and to sell in the Christmas auction at Ledbury Market. He took a dressed goose to his Mother-in-Law's in Hertfordshire for Christmas lunch in 2000. She liked it so much she moved to live in Worcestershire the following year, just a mile from the farm, what a draw these geese have!! Raised for Christmas, a goose is a symbol of the full years cycle on our farm. They hold a special place amongst our livestock. If you are really looking for a special treat this Christmas, look no further. Presented with herbs and Meg's cooking instructions, available to collect from Roots, place an order here, don't delay!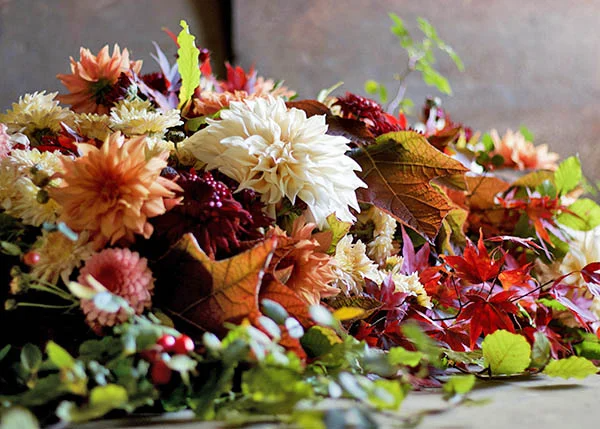 The last of the season …
Meg has made her last fresh homegrown flower arrangement of the season as the heavy frost this week brought an abrupt end the flowers that have been protected in the polytunnels. But the good news is that the potted 'Paper White' narcissus are peeping through the compost and should be ready for Christmas. She continues to make bespoke tributes for families saying goodbye to loved ones at this very difficult time. Using natural, seasonal material from the farm, there is always something in nature to soothe, unexpected blossoms, evergreens and herbs, individually made to order.
Flowers by Meg
We are grateful as always for your continued support and are very much looking forward to providing you and your families with a Christmas feast to remember.