Well, we got there, we made it safely to Easter.

Late March, early April is always an insanely busy time on the farm, with lambing coinciding with seed sowing, ground preparation and planting out; this year it all landed on top of Easter and the 'COVID situation'.

There has been very little time to plan anything, so our response has been reactive and at times just instinctive. There is no doubt in my mind that we could not have got through to Saturday evening without the amazing help of lots and lots of people behind the scenes both on the farm and in the shop and also in our short, sustainable supply chain, built over twenty years, tried, tested and proven in a matter of weeks. So, I have a few thankyous to make.

We haven't run out of eggs thanks to Mike, James and our own amazing flock of layers, who every single day in exchange for some feed, water, and shelter knock out an impressive amount of delicious eggs – we probably used to take this for granted a bit, not anymore.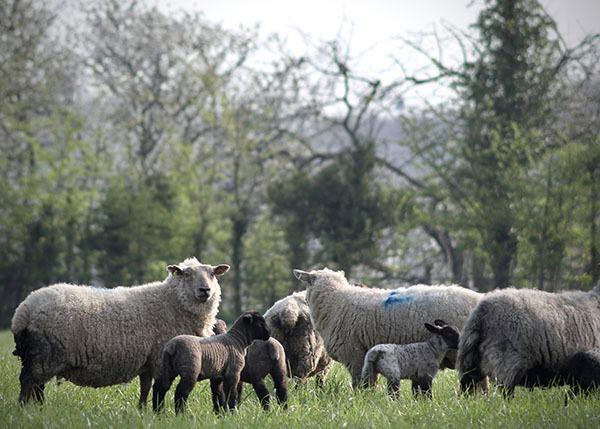 Flour has been coming forth at a steady rate via Johann, Nigel and Adam, with wheat and rye being homegrown on the farm here or supplied locally by Mark in Shropshire – growing small-scale crops of milling quality to be stoneground into wholegrain flour for use in our bakery and sale in bags in the shop. Our own mill is in situ here on the farm but not yet commissioned so we are relying on a local watermill and windmill to keep us going. When the chips were down, our long and close relationship with Gloucestershire millers Shipton, meant we were able to maintain a supply there too, thank you also. Whilst increasing production fourfold the loaves from Meg's Bakery have been shared out as widely as possible.

Many people passing through the shop have discovered a lack of broccoli, this is because at this time of year it comes on lorries from Spain, as a shortage emerged, prices went through the roof as quality dived. We have always promoted locally grown purple sprouting broccoli supplied by David and Allan. His team have kept us supplied and many customers have tried it for the first time, the price has remained unchanged, despite a demand we have never seen. Paul and Mike from Bromyard grow and store potatoes, they too have maintained our supply throughout this tricky time.

Things were getting away from us on the farm with planting date deadlines coming and going, an atrocious autumn and winter, a large area of organic land turning into wall to wall docks. And so, I sent out an SOS to get some barley sown and the boys with the big tractors duly appeared on Thursday and the work got done, thankyou Phillip and your team, I think we work hard sometimes but you lot really are 24/7.

Amy appeared on the scene only a couple of weeks ago having become stranded from her work in sustainable growing in Portugal and has singlehandedly taken on the seed sowing and raising, flower propagation and harvesting, coping amazingly with blurted out instructions and a virtual lack of directions – well done and thank you for keeping the growing on track. Our beds of tulips, admired by those on their daily exercise walks have been picked, conditioned and turned into beautiful bouquets and arrangements allowing our work, providing funeral flowers, bouquets and buckets to continue, comforting so many.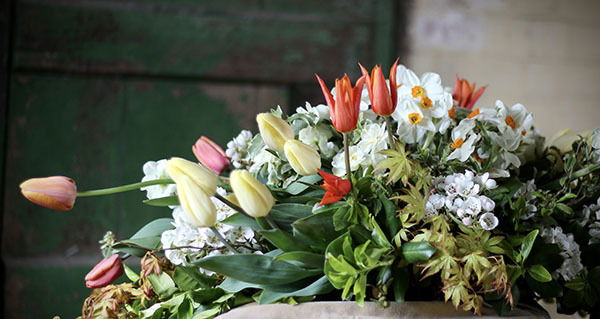 There is only a small team of people here at Roots. Mark, the two Debbie's, Gitana, Meg, the kids and me. As the workload has increased, everyone has been amazing at putting the extra in, we are all exhausted but have kept a sense of humour, just about. Thanks as always to the home team.

Hopefully, with a couple of days 'rest', we can try to make some sense of where this is all heading. I feel privileged to be able to continue our work during the crisis and in some small way help to keep local, sustainable food reaching our customers. And lastly it is you guys who get the final thank you because your support over the years has kept us all here doing what we do.

Thank you, Will