We are writing on another beautifully sunny Sunday evening – we've managed to get in the garden a little bit today. As the wind got up mid-afternoon, the children went to fly a kite in the field, we made a new pen for the orphan lambs and got them sucking on a bucket of milk, we planted out some pots that have been sitting by the back door since February and when we all returned from our 'jobs' we made cosy corner in the early evening sunshine for a 'sun-downer'. A special friend introduced these to our family when we were travelling across South Africa in her old Mercedes, the children were very small, in fact they say they can't remember, but we do – a little glass of something and some nibbles, a very special time to talk and reflect.

In the shop this week, we almost 'hit the buffers'. The emails came in quicker than we could deal with them. If you were one of those we couldn't respond to, we are sorry. In the week ahead, we will put in place provision for managing this. On Monday evening our new 'rules' for shopping, online ordering, collections and deliveries will be published on our website. We are sorry if this changes what you have become used to over the last four weeks, but it is now clear that this situation is not as short term as we originally thought and it has to be one that we can sustain for a longer time if we are to genuinely help as many people as we can.

The emotional investment we make in our business is one that we rarely show, but this week feels like one in which it was almost too much. We have had a heartfelt discussion this afternoon with our children about why, when it feels to them that everyone else is staying at home, keeping safe, inventing ways of occupying their time, their parents are working flat out, potentially putting themselves at risk. The incredible thing is that they don't ever question why and what for. We have tried to explain that the work we have done this last month at Roots is the culmination of twenty years of driving a difficult road of decisions, focussing on our belief that building a local food network to feed local people is the right thing to do. We also have a daily output of eggs, vegetables and meat to find a home for and a whole bunch of suppliers in the same boat, so for us it seems the right decision is to carry on carrying on, whilst regularly reviewing the safety implications for us, our staff and customers.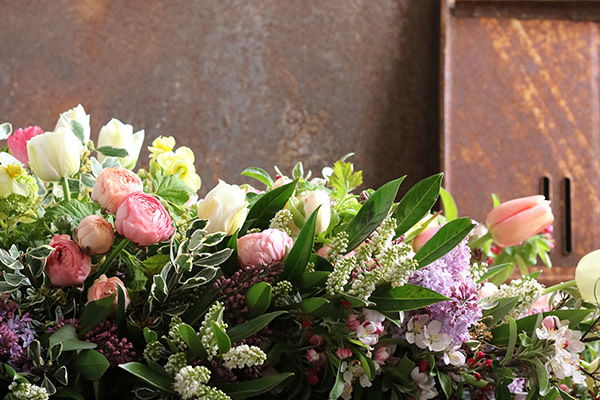 Behind the scenes, Meg's flowers have captured the mood better than anything this week. Offering a 'sweet-shop' like array of tulips bunched, multicoloured, ready to surprise and delight, the first of the ranunculus (tricky little devils that they are to grow!). But even some of our best customers and friends will not know that we provide the floral tributes for many families saying goodbye to their loved ones. At this time, this has become particularly important, to capture a moment in flowers and foliage from our farm, a privilege, one that needs time and focus, emotional investment.

On a lighter note, we have talked about 'when all this is over' … the time to do more of what we really want to. At the beginning of this crisis we had to make a panicked call to our organic seed supplier who had taken down their website, swamped with requests for organic seed – asking them to choose the equivalent of 600 plants worth of tomato seed – whatever they had left in their supplies that tasted good – blurting instructions to get them planted – well the good news is that that three weeks on, they have not only germinated, they have been potted on, and are standing about five centimetres high, growing away in the sunshine of our greenhouse – we've stuck our necks out and declared that the first tomatoes always arrive by the 21st July from a cold greenhouse … you can hold us to that!

Asparagus has begun in its usual faltering way, pushed on by hot sunny days and held back by cold winds and near freezing night-time temperatures. The daily fluctuation in temperature of over 20 degrees is causing us quite a few problems, not just in growing crops but especially in the chick rearing shed where draft-free constant warmth is essential.

But, the best news of all this week was the 7 mm of gentle spring rain which fell on Saturday, mainly at night and exactly at the right time for the seedlings and emerging Spring crops. Out of our control of course, but it does feel good when something goes right!