Look forward with us to a year of the season's best food, flowers and farming stories, at Roots we think that 2021 can ONLY get better!
It's been a testing start to the year for everyone. Barely recovered from the strains of 2020 we have been launched into a new year of challenges, but at Roots we thrive on challenge, which is probably just as well. Farming life is never dull. This was the view of our river meadows when we awoke on Thursday, it's the second time since Christmas. A natural flood plain, it hasn't really been dry since late November, but on mornings like this we can hear the water is closer as we wake – the wild ducks and their 'quacking' laughter is much louder when the flood is in.
The meadows will recover, this is the same field that the shot of hay bales from our blog on the 12th of July, but our management of these fields is critical. Left undisturbed the herb rich meadows are stable and resistant to erosion or leaching providing plentiful grazing for our livestock from late Spring well into the Autumn. The temptation of naturally fertile soils is too much for some farmers who will plough and plant right to the riverbank taking a risk that they will snatch a crop between floods but often caught out, crops, soils, nutrients and chemicals washed away into the rivers course. Environmentally disastrous risks like this are ones we will never take. Protecting and preserving our soils is the bedrock of building a healthy agriculture and sustainable food system.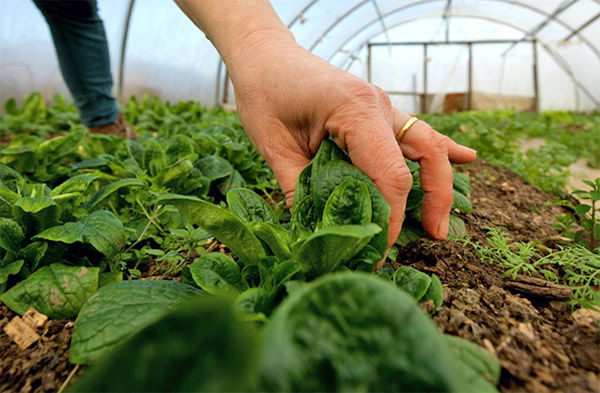 Lambs Lettuce

This also goes for the market gardening and flower farming that we undertake at Roots on our outdoor beds and in our polytunnels. The success of our winter salad crops this year is a result of the careful restorative work that Amy and Gitana put into preparing beds with mulch after the early courgette, beetroot, chard, carrot, cornflower, zinnia and statice crops were finished and before the winter crops were planted. Using mulch helps to build the organic matter in the soil improving water holding capacity, structure and nutrition, also helping to build a 'living soil' packed with worms and healthy microbes that do much of the work for a farmer. We are now picking fabulous winter lettuce, lambs lettuce (pictured here), spinach, chard and coriander. An early season crop of carrots and spring onions (the sort that are so good you can eat them alone in a sandwich) are showing great promise. Beautiful ranunculus, anemones, stocks and other Spring flowers will not be far behind.
We know that a balanced future food plan should include less red meat that we have consumed as a nation. Less, but better is the hope we have. If we all eat a little less red meat and try to make better use of all the cuts that these animals provide, we will achieve a natural balance that is healthy for us. Following the festive season when we often look for the prime butchery cuts such as fillet, sirloin or rib of beef, it is now that you can help to manage the balance of the rest!
Meg's Farmhouse Beef Stew
A comforting, tasty beef stew in a rich and thick gravy, ideally served with creamy mashed potato and freshly steamed greens, is a supper we all look forward to. And it is such an easy family meal, although thinking ahead is important because the depth of flavour and melt in the mouth texture of the beef is a result of a long, slow cook.
This recipe makes six to eight healthy portions. It is even better eaten a day or so after making, somehow the flavours deepen and ideal for freezing.
3-4 large pieces of braising beef
3 carrots
9-12 shallots (can be halved if large)
3 sticks celery
3 bay leaves
Plain flour
Salt & Pepper
Water / Stock / Red Wine
A teaspoon of Marmite and a dash of Worcestershire sauce
Method
Prepare the vegetables, peeling and 'chunking'. Warm a little olive oil in a large, deep casserole pot and add the chopped vegetables tossing them around on a low heat to start sweating.
Heat a little oil in a separate frying pan. Cut the pieces of braising steak into chunky strips. Toss these around in seasoned flour, then brown them in the frying pan, a few at a time, lifting them out and into the casserole on top of the vegetables when they are brown all over.
When the meat is all done, return the frying pan to a low heat and add the remaining flour (that was on the plate you coated the meat with), along with a glass full of red wine (about 250ml of stock or water is equivalent). Scrape the pan (the bottom, sides etc.) with the spatula to loosen any tasty crusty bits of floury/beefy juice. Add a teaspoon of Marmite and a dash of Worcestershire sauce. Tip the contents of the frying pan into the casserole on top of the veg and meat.
Add a more liquid to the casserole to just cover the meat and vegetables (this could be water or wine). Put on a tight-fitting lid and cook in the oven at 140°C for at least three hours, leave it longer if you can. The casserole is ready when the liquid has reduced and thickened revealing soft, tender pieces of braised beef. Serve with mashed potato and steamed greens.
Just a timely note about good practice for defrosting and re-freezing meat and poultry. We recommend allowing meat and poultry to defrost naturally at a cool temperature (ideally overnight). Removing the bag of giblets from the centre of a chicken will help this process along. Packs of meat are best stood in a container on end, the liquid to drain to one end of the pack, allowing you to lift the meat away from this unnecessary liquid. We strongly advise against microwave defrosting of meat. This can lead to unpleasant odour and partial cooking of the pack contents which is most undesirable. It is perfectly safe to prepare meals with defrosted meat and then re-freeze the cooked product, portioning to make your own convenient 'ready meal'.
A change to our opening times…
Those who have continued to visit us at Roots will be aware of the change we have made to our opening hours reflecting current government guidelines protecting the health of our customers, staff and families. Roots is now open between 10am and 4pm on Friday and Saturday until further notice. Many of you continue to place orders each week through our shop online, thank you. Orders placed by Wednesday midday will be prepared for collection (or delivery by arrangement) on Friday of the same week.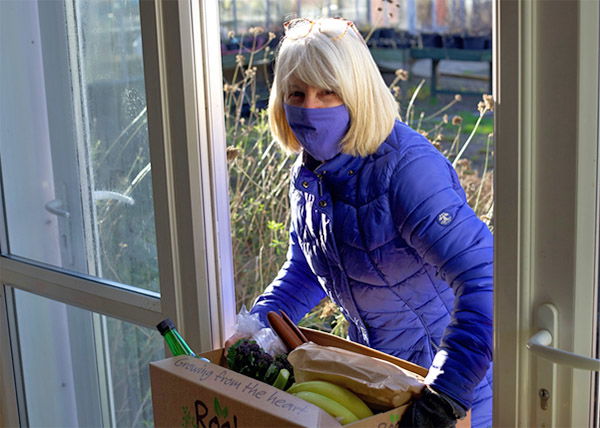 'Coordinated' Customer collection PS. And now the snow …
A blanket of thick snow was deposited today – thankfully for the children it is Sunday and they have snowballed and tobogganed with glee, the chance of a 'snow-day' tomorrow now that 'online school' is so well rehearsed is practically zero! The challenges continue, but we are here for the long run, come with us on the adventure!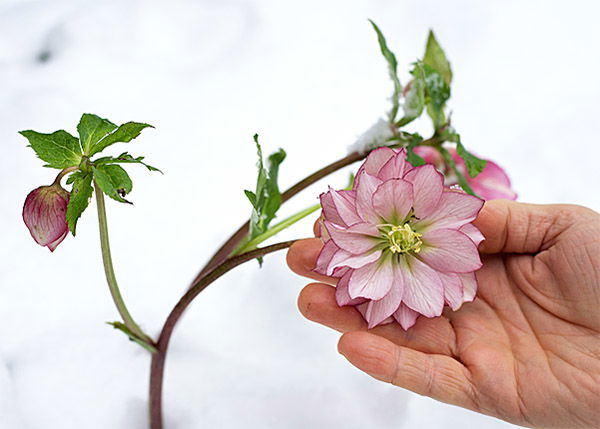 Hellebore in snow