It's that time of the year when everything feels as if it's speeding up around us! Spring flowers are blooming, the birds are nesting, new lambs appearing in the fields and the days are gradually lengthening. It is potato planting time! Ploughing, ridging and planting, organic seed potatoes (they come from Scotland) over 40 acres takes a team of tractors and machines just over a week and my, what tractors they are!

News from the lambing shed …
Our flock of 100 ewes began lambing three weeks ago and the nursery is packed. All is well, 'Tina' (Meg's pet sheep) had beautiful twins, 'Connie' (our now rather elderly ewe entrusted to us by friends) had twins too! The early lambs and ewes have been turned out to the orchard where they have fresh grass and space to enjoy the 'lamb games' – an early evening spectacle of lambs gathering together to see who can run the fastest and skip the highest, usually involving a favourite mound, until the first are called away by their mothers to settle down at dusk under the shelter of the old cherry tree branches.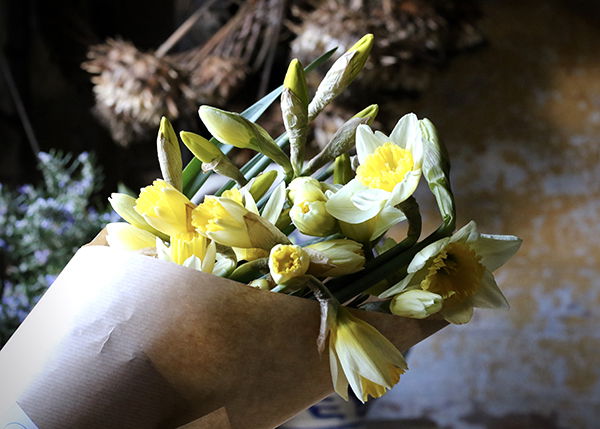 Spring Flowers
First the daffodils and the narcissus then the anemones, tulips and ranunculcus, with blossoms and bursting buds, our bouquets will be abundant for Easter. And from there we hope to re-establish Roots 'Friday Flowers', homegrown seasonal flowers and foliage in bunches, bouquets and buckets. Click here to visit the flower shop. Of course, the seed sowing has started now in preparation for the 'Flower Farmer's Big Weekend', August 2021 … a flower garden to visit at Roots, do we even dare dream?!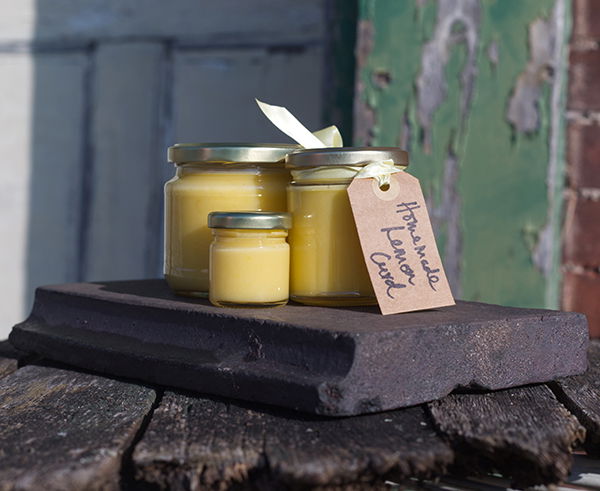 Lucious Lemon Curd
We know you have all been enjoying some really excellent citrus from Sicily this Spring, the lemons have been particularly good. Unwaxed, many still attached to the leaves and twigs from the trees on which they grew, the perfume is heady. Every two months, we contribute a recipe to a local magazine and this week we have shared our recipe for lemon curd. We've made some ahead of Easter to distribute to family and neighbours as a little treat – Click here for the recipe, straightforward to make - it is also available in our online shop.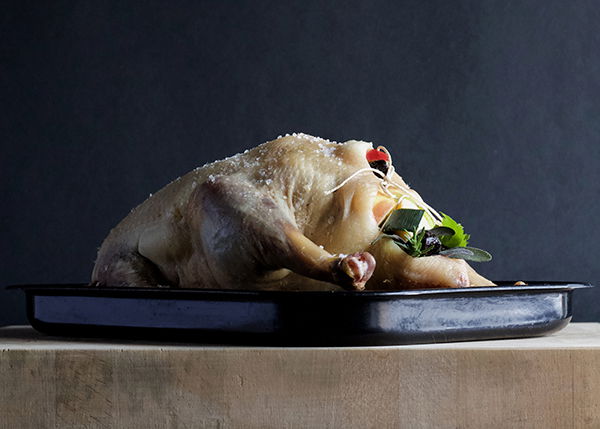 Easter Feasting
The eagle eyed among you will see that we have listed a special offer of our organic geese, only small birds (3-4kg), limited in number but available because we all know that Christmas wasn't quite the family celebration that we had hoped. At just £45, freshly frozen, with giblets, presented with full cooking instructions and a large bouquet garni, we are hoping that they will be snapped up for Easter feasting. Click here to see the offer.

We continue to be open for shopping at Roots on Friday & Saturday from 10am – 4pm alongside our shop online for which orders are placed by Wednesday lunchtime for Friday delivery/collection. We ARE open on Good Friday as usual AND making an extra delivery round to our Cheltenham customers which probably means we will need to bake a few extra hot cross buns!

It seems a little unreal, writing now as the nation has spent a minute of silence reflecting on one year of how COVID-19 has affected our lives. With great sadness we remember those we have lost and in our individual moments of reflection take time to be grateful for the commitment of so many in supporting us and our families. We are looking forward to taking a couple of days off with our family over Easter weekend, enjoying some good food, rest and maybe some gentle gardening. There is much to look forward to, but there is also much to enjoy in the moment.

Wishing you a very happy Easter,
Will & Meg