Every now and again I feel inspired to learn a new technique to add to my culinary repertoire and whilst that sounds almost painful and as a busy mum I should know better, this recipe is the result of some good research and less than fifteen minutes of my time in the kitchen…brilliant!
Meringue, it turns out, is based on a simple principle of 50g sugar to the white of one large egg. There are a few rules; a spotlessly clean bowl to whip up the mixture in, gently warming the sugar before adding it to the egg white, baking slowly and probably last thing in the day so that the oven temperature can fall away naturally once switched off, ideally overnight, and my own rule of going for a "free-form" shape which cuts out lots of fiddly piping (and no washing up of piping bags!).
Topping can of course be as simple or elaborate as you like, fresh fruit, cream, some greek yoghurt or crème fraiche, a drizzle of melted chocolate.
Serves 8-10
6 egg whites carefully separated from large eggs
300g golden caster sugar
10floz double cream
2 heaped tablespoons of greek yoghurt
fresh strawberries
a spring of fresh mint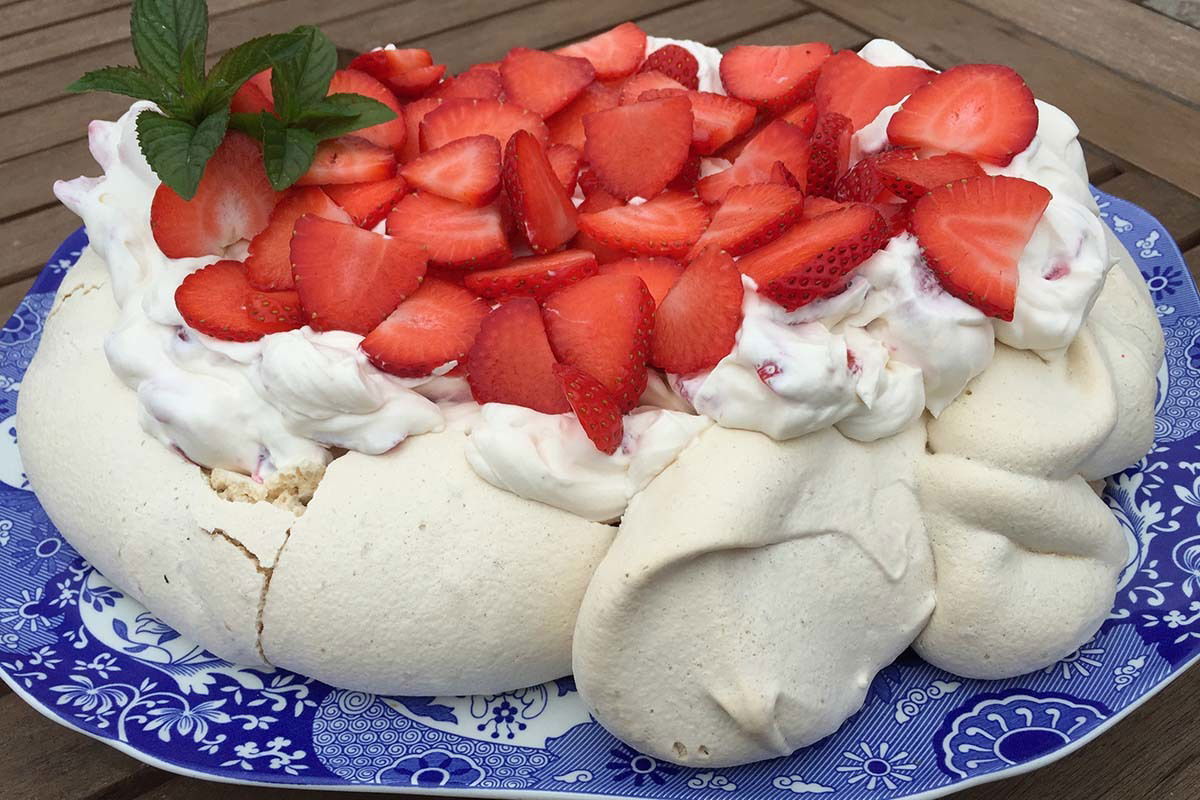 Pre-heat the oven to 170°C, spread the caster sugar over an oven proof tray and warm for a few minutes until it looks as though it might melt at the edges. Turn down the oven temperature to 140°C.
Begin to whisk the egg whites, this is ideally done in a food mixer. Allow the mixer to continue whisking as you carefully pour in the warmed sugar a little at a time until the meringue begins to stiffen and then appear thick and glossy.
Line a baking sheet with non-stick silicone baking paper. Spoon the mixture onto the sheet creating a free-from shape that suits your serving plate!
Bake the meringue for 50 minutes to 1 hour until the outside is slightly golden in colour and really firm to the touch. Turn off the oven leaving the meringue inside allowing it to cool slowly with the oven preventing large cracks appearing across the meringue.
An hour or so before serving top your meringue with cream, yoghurt or a mixture of your choice. I like to chop some fruit into the cream mixture to pile on top as well as slicing fresh fruit over it. You may well find that once topped your pavlova will give a satisfied sigh and collapse a little in the middle, all the better as the delicious sweet and tart flavours will mingle and melt together.