There cannot be anything more comforting and satisfying than a proper Roast Chicken Dinner! Nothing quite brings on the ooh's and ahh's in our house more than the aromas of such a dinner cooking. A popular Sunday lunch "go to" or a midweek treat to boost energy levels until the weekend … Roast Chicken has it all!
Get your oven hot to start with, 200°C.
Prepare some root vegetables, peeling and chunking as you go, toss in a little sunflower oil and season.
Prepare the bird (if it's one of ours don't forget to take out the giblets which will be packed in the cavity, essential for good gravy).
Place the bird in a large roasting tray (big enough to leave some space for roasting veggies). Peel and quarter an onion, halve a lemon, stuff them inside the cavity with a handful of herbs. Sage is a traditional herb for roasting with chicken, but parsley and thyme will also flavour the bird well, a combination is ideal!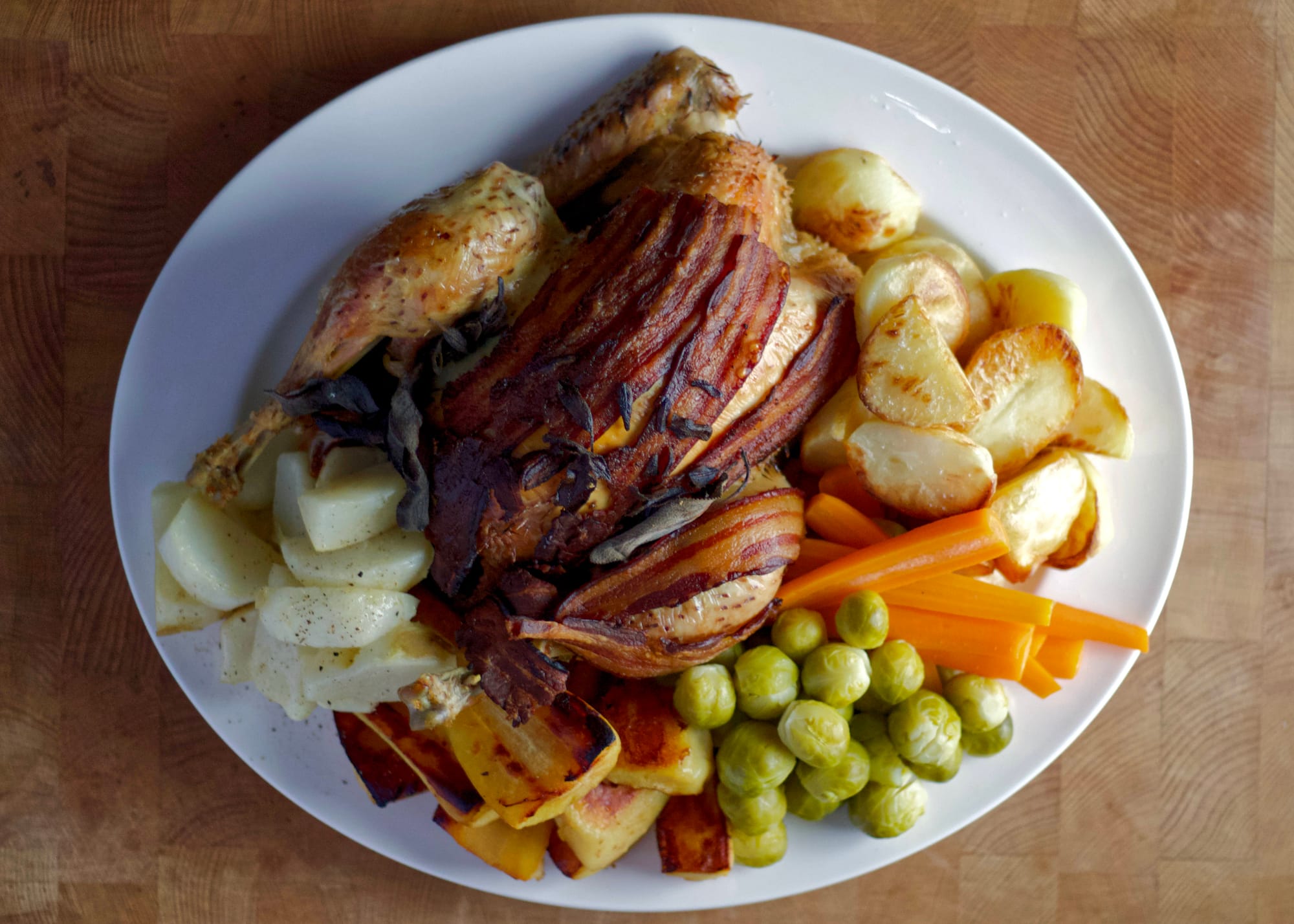 A Roots Chicken has plenty of fat under the skin so as not to need oil adding, but do scrunch sea salt and pepper over the breast and legs that will crisp up during roasting. Last of all pour a mug of water into the bottom of the tray which I find helps to keep the bird moist during cooking and gets the gravy off to a good start too.
Place the bird in the hot oven for 20 minutes. This is a good point at which to surround it with your prepared veggies for roasting. Turn the oven down to 180°C and cook for a further 30 minutes per kg plus 20 minutes.
Once cooked do allow the chicken to rest somewhere warm for 10 minutes or so before carving. This will be enough time to make the gravy with the delicious juices in the roasting tin.
With a heavy bottomed roasting tin this is easily done on the stove. Mix 3 teaspoons of cornflour and a good pinch of mustard powder with a little cold water and tip into the cooking juices. With the heat on low use a small whisk to bring the gravy together. RoaAllow to cook for a few minutes (cooking out the starch) and then you can let down the gravy with stock from boiled giblets, vegetable cooking water or maybe a splash of wine. Keep whisking until the gravy thickens a little.