Meg tells us about her 'Daffodil breakfast'…
The winter has lingered on, then suddenly on Monday this week, it was Spring! We had really begun to feel the depth of cold, frozen pipes, frozen plants, frozen ground, but what a difference a few days can make. The snowdrops at the farm are flowering under the nut bushes creating a carpet of snow white beneath the yellow catkins and the daffodils are just about to burst in time for St. David's Day on the 1st March.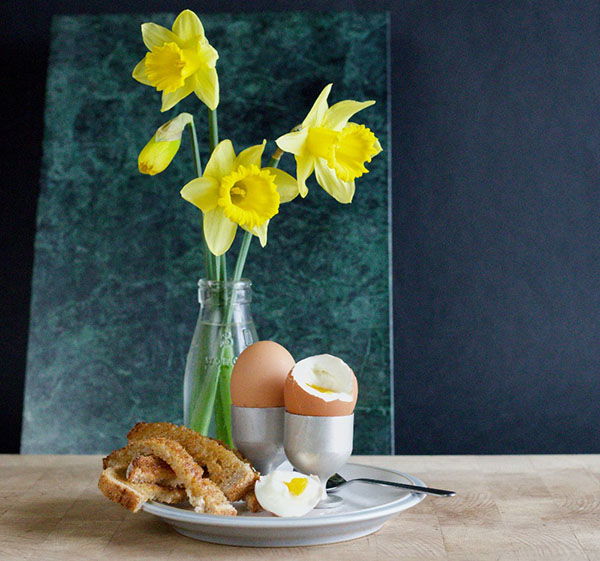 When I was a child in Primary school my favourite teacher was a kind, softly spoken Welsh woman, Mrs Ward. St. David's Day was celebrated every year with a 'Daffodil breakfast' which to our great excitement meant a boiled egg breakfast at school. Mrs Ward would gather us around tables adorned with daffodils standing in the tiny empty milk bottles that she had saved as vases for the occasion. Such a happy childhood memory and a tradition we have tried to keep, much to the bemusement of our children. Daffodils adorning our kitchen table, dunking buttery toast soldiers into the lemony yellow yolks of our eggs, boiled for 4 minutes to achieve perfection, is a treat we all enjoy.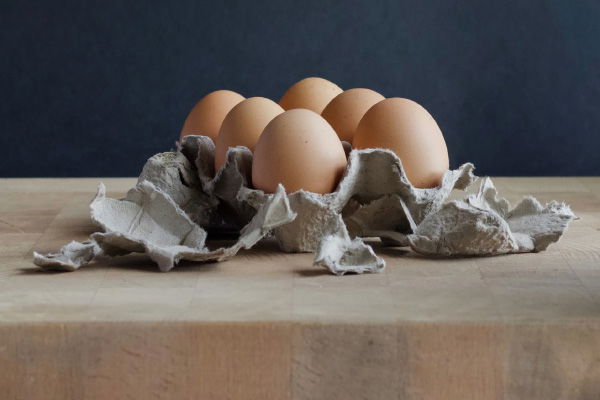 Talking of the Roots laying hens, they have been experiencing their own 'lockdown', well, more of a 'lock-in' really, ordered by the Government to remain indoors or in a covered environment to protect them from Avian Influenza which has been identified at several sites in the UK this winter. Luckily, we have the large polytunnel, that our tomatoes grew in last year to house the hens. They have indeed been out of the worst of the wet weather, able to scratch, peck and dust bathe, but are now beginning to show their boredom.
Here is a short film we have made to show you what's going on: CLICK HERE
Hopefully a few more weeks and they will be able to get back to the pasture. They do, of course, continue to lay the most delicious eggs, so if you are able, a 'Daffodil breakfast' is to be recommended.
Back in stock from next week is our home-reared organic beef. A good range of joints and steaks will be available in the farm shop and also online. Do call if you have something particular in mind.
Fresh organic vegetables from our fields, kales, leeks, chard, spinach and the last of the winter lettuces that have been such a treat. We still have locally grown Braeburn apples, the last of the UK season. But if you'd like something a bit more exotic, Will has bought unwaxed Sicilian lemons (accompanied with a heady perfume) and organic root ginger which we will be switching into the box orders for the next few weeks at the same price. Head over to our online shop for a recipe that combines the two with our honey to make a 'pick-me-up' shot.
With the overnight rise in temperature, we have kicked off the seed sowing season - flowers and vegetables vying for space on our new 'bottom heated' propagation bench … much like a car seat heater it just gets everything off to a better start on a cold morning! The pace quickens as we enter March, we will be planting out the new spring crops before we know it. Tulips, Narcissus, Anemones and Ranunculus are showing great promise for some beautiful Mothering Sunday and Easter bouquets - who knows, we may even be able to visit family and friends before long with wonderfully colourful and scented bunches of happiness.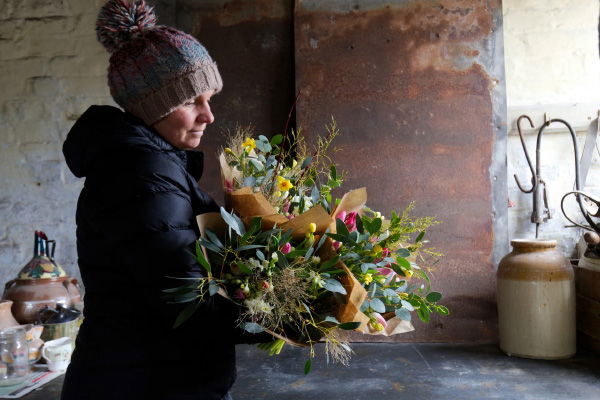 ---
Through our online shop we continue to offer weekly ordering for collection or local delivery and twice monthly deliveries to our Cheltenham customers (the second and last Friday of each month). Our shop in Rushwick is open between 10am - 4pm on Friday and Saturday. Please don't hesitate to get in touch if you need to Tel. 01905 421104.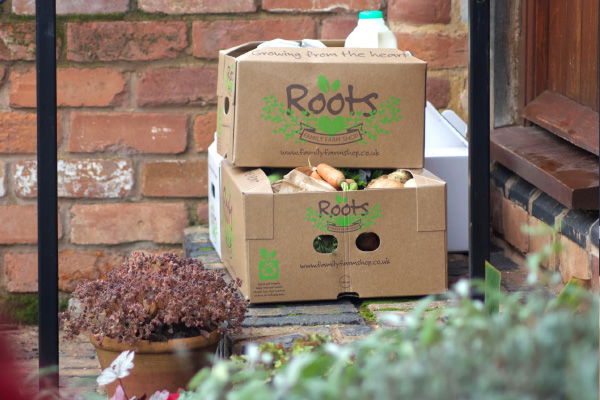 Last of all, a note about Easter which is early in the calendar this year. We, as many other families, are hopeful that Easter will be the moment we have been waiting for to be reunited with family and friends, to feast together at last! We are planning to make available a good selection of family sized organic meat and poultry, beef, lamb, goose, duck and chicken. Fresh vegetable, fruit and grocery boxes much like at Christmas, more details to follow, do keep an eye on our website.
With our very best wishes
Will & Meg Edmonds